Born From Experience
Riders continue to push the limits of what is possible on a bike, and as a result, we've designed tires to suit this ongoing need for performance and reliability. We aim to design tires that riders actually need, whether it be size, tread pattern, durability, or studded traction. With feedback from our buyers, our riders, and the extensive riding and testing of ours and our competitors' tires, we keep our finger on the pulse of what designs and sizes riders are looking for in order to create desirable niche tires that riders want to have on their bikes.
Terrene DNA
Terrene tires are created with high quality engineered casings for performance and dependability, combined with high natural rubber compounds for superior quality and traction. Each tire is designed in a Light and Tough version to enhance the riding experience and both versions are sold at the same price point to simplify the buying process while allowing riders to choose a tire based on their specific needs. From the beginning, every single one of our tires is designed to be tubeless ready. Ride quality, dependability, and ease of use is a commitment that we make with all of our tires. No guessing, no problems. Always tubeless.
Casing Tech
Light casings are a supple 120tpi material, laid up to yield the lightest tire and best ride quality that we believe is appropriate to the use case of that tire. Tough tires are engineered with various protections appropriate to how that tire will be used. We start with a 60tpi casing because it is tougher and more cut resistant. Many companies use the same or similar protection materials trademarked under flashy names. We use that same material for our Tough reinforcements, but we custom-tailor the layup and application to each tire, based on how we expect the tire and bike to be used. This is what we call TekShield. TekShield is not a material, it is our process of engineering the best possible tire for how that bike is used, using a wide range of reinforcement structures such as Nylon anti-cut layers, butyl inserts, high-durometer anti-puncture belts, and Kevlar reinforcements. Through engineering and riding, each Tough tire is specifically reinforced for its intended use.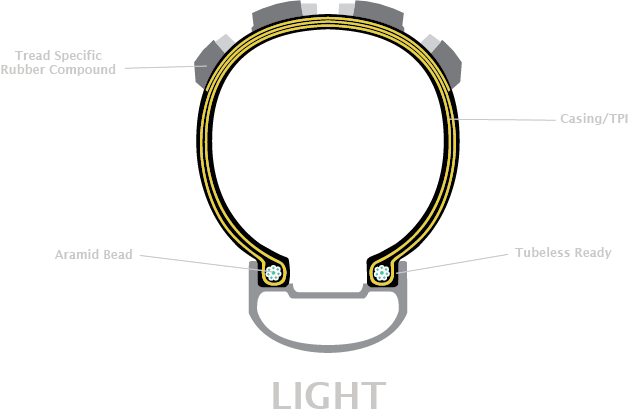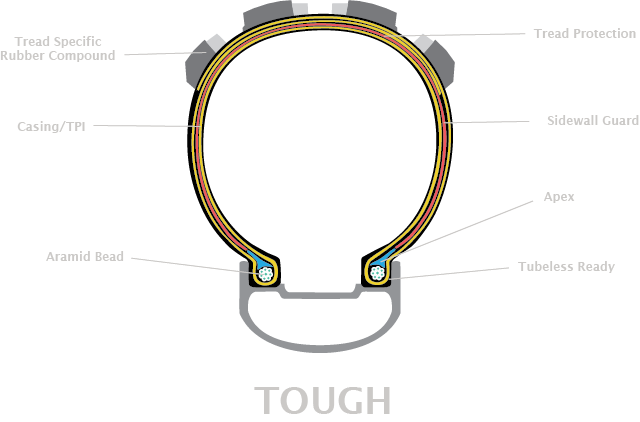 Rubber Tech
Tire compounds are essentially mixtures of natural rubbers, synthetic rubbers, silica, carbon, and a few other select ingredients. Tires can be made cheaper by using more synthetic rubber as it is less expensive to buy and easier to manufacture, but this is what makes some tires feel plasticky, appear overly shiny, and yield poor traction performance. There are many trademarked buzzwords around tire compounds, but the reality is that a higher content of natural rubber yields a better performing tire, and high natural rubber is the common feature in high-end tires as well as every single Terrene tire.
Tires with harder rubber compounds will tend to have better resistance to wear and lower rolling resistance, but will have diminished traction as a result. Tires with softer compounds will have superior traction but higher rolling resistance and worse resistance to wear. To make a good combination, dual compound is adopted for high-end tires. The harder compound is in the center for better wear resistance and lower rolling resistance, whereas the soft compound is used in the shoulder area to earn better traction when cornering. For this reason, all of our mountain tires feature dual compounds and we have added proprietary silica in our softer rubber compounds to effectively lower the durometer and increase the traction of a tire as the tire experiences riding friction.
When air temperature gets low, the compound hardness of a tire will be raised and it will lose traction causing the tire to perform poorly in winter riding conditions. As a result, our winter compound tires use a different ratio and type of synthetic/natural rubber. We also add Butadiene rubber to our winter tire compounds to combat these lower temperatures, making the rubber more cold resistant and increasing performance over other tires in similar temperatures.
Tread Design
Tire design is an ever-evolving discipline. We ride a lot of different tires, make judgements on those designs, pick the aspects that most appeal to the intent of our tire, incorporate successful features into our tires, and then ultimately, validate each design by riding it. From our experience riding certain tires that did not meet our expectations, and riding those that had the qualities we were looking for, we have been able to learn how to improve upon existing features and create future tire designs that will benefit the intended user of each specific tire.
We also continually work to gather feedback from riders of all ranges of abilities. While a pro-level rider might enjoy one aspect of a design, the weekend rider could view that as a detriment. We take all of this into consideration with the initial design of a tire and how we see it being used in the end. By communicating each tire's performance strengths from the start, we can allow the consumer the ability to choose a tire that suits their wants and needs.
Ride, design, ride. That is how we make great tires.